Actor Johnny Depp did more than $17,000 worth of damage when he crashed his new Mercedes into his home's electric security gate, it was reported Wednesday.

Depp, who reportedly bought his Mercedes two weeks ago, now must wait four weeks for the repairs to be completed on the vehicle, The Sun said.

We saw Johnny pull up outside his house going at quite a speed. He put the car in reverse but can't have been paying attention because he drove straight into the side of the gate, a witness said.

He knocked the gates' electric motor straight off the wall and left an almighty dent in the back of the car. Judging by the look on his face he got quite a fright. Once he got out of the Merc he started cursing himself for being so stupid, said the source.

Depp was on hiatus at his home on the French Riviera from his current film, Charlie and the Chocolate Factory, in which he plays Willie Wonka.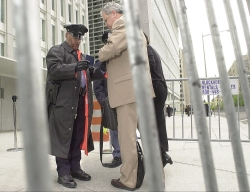 Buildings of key financial institutions in the United States are on high alert following a weekend warning by Homeland Security Secretary Tom Ridge, who described recent intelligence he had received as alarming, in both the amount and specificity of the information.
Or I might include a link to a site that talks about my favorite TV show:
Or I might include a link to a site I check in on every day for inspiration: