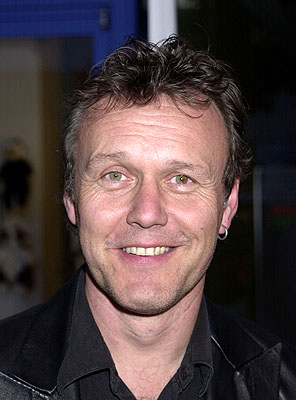 Anthony Head was born on the 20th of February, 1954, in Camden, North London, England, to actress Helen Shingler, who is best known for her role as Madame Maigret in the BBC television series "Maigret", and Seafield Head, documentary producer who created the British production company known as Verity Films. He and his elder brother, Murray - also an accomplished actor and musician - grew up in Hampton. Anthony currently lives near Bath with his partner Sarah and their two daughters. Anthony and Sarah met at the National Theatre in England. He was performing in 'Danton's Death.' Tony recalls, "I was doing a play called Danton's Death and for the last entrance I had to come on as a soldier taking traitors to the guillotine. I'd wait in a corridor at the back with my musket, and one day this beautiful lady walked past carrying a pint of beer for some guy front of house. I got there earlier and earlier in the hope I'd see her again. Eventually, we'd sit and chat before I'd have to go on for a beheading." They have been together ever since.Originally planning a career in music, Anthony attended the London Academy of Music and Dramatic Arts. His first break came when he played Jesus in Godspell in London's West End. Anthony has continued to combine his musical and acting talents with a variety of stage roles such as Frank N Furter in the Rocky Horror Show and Freddie Trumper in Chess. Anthony released a CD of his own compositions in 2001, entitled 'Music for Elevators'. Roles in television shows such as Howard's Way and Secret Army were well received, but it was the will they/won't they romance played out in the series of commercials for Gold Blend coffee that brought Anthony into the public eye.

The runaway success of the commercials was, however, a double-edged sword. Whilst being a major career boost, they also typecast Anthony as a smooth talking, romantic leading man. In a bid to develop his career, Anthony took the bold step of moving to Los Angeles - leaving Sarah and their daughters back home in England. It was not a decision that Anthony took lightly, saying, "I was earning a decent crust from the coffee commercials, so I was able to pick and choose a bit. But if you're not on-screen your profile diminishes. That's when I decided to try my lot over in the States. I was box office, I could put bums on seats in the theatre but the TV roles just weren't happening." Sarah, virtually a single parent back in England, persuaded Tony to sign up for acting classes and not long afterwards he landed the leading role of Oliver Sampson in the, sadly, short-lived Sci-Fi series VR5.

© 20th Century Fox Film Corporation
Instead of giving up and returning to England, Anthony stayed in LA and auditioned for the role of Giles, the Watcher, in a new project being developed by Joss Whedon - Buffy The Vampire Slayer. The show has gone on to become a huge hit all over the world. Anthony chose to become a recurring character on the show in its sixth season, enabling him to spend more time in England. Since returning to England he has worked on several projects including the comedy-drama Manchild, a guest appearance in the BBC's MI5 drama, Spooks, and various movie projects. For a full list of Anthony's credits go to the Filmography and Stage pages.

Since Anthony's return to England, he and Sarah have created the first TTEAM Centre in the UK. A nine part ITV 1 documentary called "Talking to Animals" was produced by Tigress Productions, highlighting Sarah's work with animals both at the centre and around the UK. As well as appearing with Sarah, Tony was also the narrator of the series. Please go to the link below for more UK TTEAM Centre details.